Borrowing a page from the Jeff Morgenthaler Playbook of Snarkiness [www.jeffreymorgenthaler.com] got me 15 seconds of literary fame in Portland's loved/hated/reviled
Current Mood:

amused

Current Music:

Bone Thugs-n-Harmony "Paper Paper"
Her completely calm, sweet nature while hopped up was so incredibly different from her usual bratty and hyperactive personality that it made me really stop and think about how drugs and alcohol influence our higher functions.
Alcohol depresses human impulse control and for me this effect is pronounced. I'll swear more, dance sluttier, and if it's tequila be quicker to anger or any violent activity...but I think the most insane thing I lose control over when drunk is
shopping
.
What, you've never shopped while buzzed? It's amazing. I used to get online with a buzz, go to Bluefly.com or Gap's website or Frederick's of Hollywood or urbanoutfitters.com or what have you and spend HOURS boozing and browsing. I'll tell you, there's no high like engaging in gratuitous, anonymous point-and-click retail therapy lubricated with choice liquor.
And the next morning you're only $500 deeper in debt, instead of pregnant.
If you really want to get kinky, I recommend getting a
bucket of KFC
to nibble on while filling baskets. I used to have 4 windows open, each for a different vendor, and would be simultaneously shopping on all of the sites.
Sometimes I'd just do
Virtual Shopaholicism
and would select a bunch of items, then CLOSE the windows before checking out and actually buying anything.
But mostly I'd end up with some random shipment that arrived the next week and contained an interesting but completely ridiculous item...A royal purple
velvet
suit, for example. Or white satin Bunny ears with matching bowtie.
I shit you not.
Fortune's peaceful face in that photo up there reminded me of me. I used to get that kind of blank, deep, numbing satisfaction from staring into the computer, losing myself in the depths of a superficially gratifying temporary fix.
It shouldn't surprise you to know my marriage wasn't going well at the time.
I'd find myself depressed without reason, in a malaise that was well-hidden because I still looked good, generally acted the same, maintained a decent social profile etc.
Gradually, however, I was ebbing away, and in the end the only way to combat the slow fade to a total loss of self was with violence. That is - at least for my early 20's self that was the solution. I think now I'd be able to call it out for what it was; walk away cleanly and surely.
And it wasn't that my marriage was terrible. It was just that the truth was frightening: I could be looking right at my husband, and the me reflected in his eyes wasn't me - it was just my shell. I could be sitting/standing/lying next to him, kissing close, as close as Sin - and yet I would still be completely and utterly, horrifyingly alone.
Here's to no more lonely chicken-greased keyboards, and to more esteeming personal finance habits.
Cheers, friends.
This is my cat Fortune. She was spayed on Monday and these pics are relevant to my blog because in them she's experiencing a state of mental alteration...high on painkillers.
Current Mood:

thoughtful

Current Music:

Rilo Kiley - "The Absence of God"
I had the pleasure of entertaining the company of three longtime friends at MASU last night, and they immediately put me to work as good clients should. There's nothing like wanting to impress your friends that immediately brings all your weaknesses to the surface and guarantees you're going to make some kind of faux pas.
Case in point (which I related to the guys last night) was the previous Sunday when my brother came to visit and I dissolved salt in his
sazerac
instead of sugar. The "briny" saz was not a hit, needless to say.
So last night I think I poured a little too much tequila into Julio's
blackberry margarita
, and I'd never actually performed the whole
Absinthe
drippage ordeal so I run into the bathroom, dial my brother, and check to make sure I've got all the steps right off Jeff Morgenthaler's (
http://www.jeffreymorgenthaler.com
) blog, then run back out and hold my breath while preparing Thomas' cocktail using a regular teaspoon and an empty soy sauce container for the water drip, willing magic to happen. Well, the blackberry marg wasn't as good as my blueberry recipe but it was made with affection and the absinthe setup was awkward as Hell but the potion emerged cloudy and cold and effective, and all in all...everything turned out OK, like it always does.
My favorite moment was doing a Maker's version of my favorite
mint julep
for Brian, which involved a luxurious (some might say excessive) amount of mint, and a float of Mt. Gay rum.
In a job where you don't get to take a piss for hours on end sometimes and your feet usually feel like you're walking on knives (á la the original Little Mermaid story, anyone?) at the 11th hour, it's critical to keep at the forefront of the mind that you're there for everyone around you, and not yourself, not the money, not the recognition.
It's almost exactly the relationship I used to experience in theater. Some people would take this to mean you go into the job with a "fakeness" or "faux finish" to quote
Alfie
, and superficially that may seem accurate, but it isn't.
You give me the bright lights, I give you pieces of heart.
So over a bar, what's being exchanged isn't money for booze. It's your life moments for mine, and that's the beauty of it.+++
Cheers!
____________________
+++This kind of market requires active participation by both guest and bartender plus the right infrastructure to function properly. In other words, you will not find this market nor the relationship I've described available at all venues. Moist nightclubs where you shout your order for a
Bacardi-and-Diet
over 3 rows of dry-humping young people and emerge with nineteen flavors of sweat on you and your drink is one example. Another is the chic-slick corporate branded venue where the New Money goes to demonstrate class (fake tans/lips/boobs) and character ("HEY! I NEED uh 8
LEMON DROPS
!! AND a...um, A
COORS LIGHT
!) as they spread themselves thinly over the gleaming stainless steel.
Sometimes it's easy to forget that you're on display as a bartender, much like an actor onstage. This means that for the duration of your shift you're not entitled to basic human rights like privacy, nor do your needs merit any kind of attention or regard. Like a celebrity, your value is determined by the response you elicit from your "fans" who are in this case your establishment's patrons.
Current Mood:

content

Current Music:

Franz Ferdinand - "I'm Your Villain"


With $3 billion in assets, Nicolas Berggruen has made a conscious choice to invest differently. The 46 year old financial whiz has sold his home, lives out of hotels, and art, rice fields, and wind top his list of recent purchases.

Attaining wealth through classic means, Berggruen (who aspired to be a writer as a young man and favored Camus) now focuses his investment energy on solving - via the market - social ills he perceives as unaddressed by the government.

Called a "disciplined buyer" by a peer, Berggruen exhibits a long-sighted proactiveness that's impressive considering his idealism is also turning him a profit. For example, when fuel prices started to rise, Berggruen didn't just play speculator and thrash about in the market. Instead, he got together a team of agricultural experts. He researched ethanol. He made informed decisions with both humanitarianism and profits in view.

Berggruen is a model for what the modern investor can and should be doing with his assets - and by assets I mean heart, soul, brain, and financial capital. He feels his legacy will be articulated through his contributions to bettering society using his talents in the market. The dividends: a museum full of art and inner-city urban renewal developments, to name a few.

A mansion, bling, and other classic markers of status have no interest for Berggruen. He doesn't even own a car.

While a one-man system such as Berggruen's functions on the micro level, it has macro results. Berggruen's ideology, when executed in the market, will make a small mark of great magnitude on the GDP books. Imagine, if we all allocated our assets according to what should be, instead of what is.

The center of our economic universe is not the dollar; it's not the corporation, or the profit motive. The center of the universe is the household. And at the core of the household is a man. Or woman. At the core, there's a soul, and if that soul has no connection to others of its kind then there is no system. There's no economics. Period.

Berggruen is modeling a connected stewardship that is critical for investors to embrace if we want to survive with some semblance of humanity intact as we enter the coming decade. The business sector needs to decide, quickly, if we want to be part of a solution or just hurry the demise of the world along.

Not all of us have $3 billion to spend on eco-projects, and no, we can't always afford the organic free-trade chocolate, and some days it just feels right to splurge on a bottle of the better scotch or prettier bicycle fenders.

We don't need to be perfect. We do need to be conscious.

Investors, economists, as well as the average business sector Joes and Janes need to think about what's really important to us, what brings meaning to our lives, and realize that we have influence. We have the power to gift those things to our children, to our communities, to our nation, and to the world using inherent assets: innovation, compassion, critical thinking.

If we're smart enough, we should be able to do great things...And still turn that profit.
[reference: "Putting his Money Where His Values Are" by Robert Frank, WSJ]
Current Mood:

hopeful

Current Music:

Rilo Kiley - "Moneymaker"

Bushmills Irish whiskey
Noilly Pratt dry vermouth
Chopin vodka
Hitachino Nest red & white ales

Anyone have any other suggestions? Wines, beer, hards, sakes, accompaniments, anything goes...
Carpano Antico
Current Mood:

accomplished

Current Music:

Pink Floyd - "Pigs On the Wing (Part II)"
After that mess I was ready for a drink. Elliot and I had decided to give
Veritable Quandary
, an old-Portland fixture founded in 1971, a try. I was curious - my mother always mentions how she used to go there.
I was pleased to see a lot of dark wood and old men in business suits when I entered. Somehow those two things always make me feel irrationally "at home" in a place. I decided to act like an old man in a suit, and order a
Rob Roy
, which is basically a Manhattan made with scotch.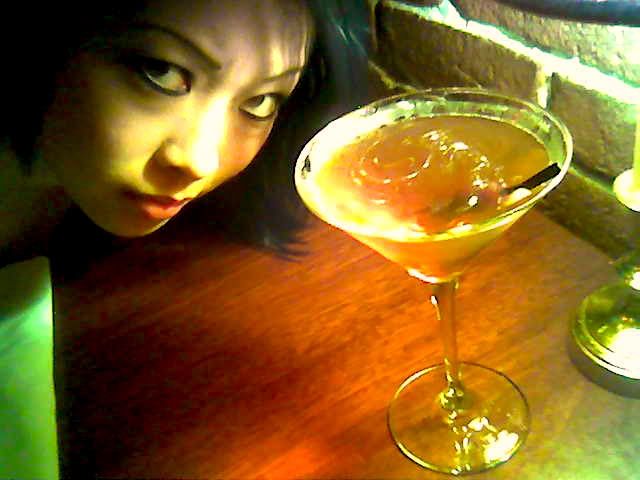 [photo courtesy e.scott]
I wanted to see if VQ could make a decent cocktail, and I also wanted to see if I could find a scotch that I really, enthusiastically liked in a Rob Roy. In the past, I've been underwhelmed by the scotch-bitters-sweet vermouth combo. Not being familiar with
Highland Park
scotch, I asked for that.
According to
The Scotch Connoisseur
blog and
Alternative Whisky Academy
, Highland Park is a well-rounded product from the Orkney Islands (not the Highlands, as the name might make you think), made in the northernmost scotch distillery in the world. It's got a lighter peatiness and smokiness than Laphroaig, but is more dark and complex than the Macallan. Aged in sherry casks, I felt the Highland Park 12 was fairly sharp but yes, definitely tasty, and a good compromise between the musty Islays and the bright Highlands whiskys.
That said, I still wasn't a fan of it in the Rob Roy. I would have preferred a shot of Highland Park, neat.
I'm putting on my to-do list a Rob Roy project, meaning I am going to find the absolute best scotch to mix into my absolutely delicious Rob Roy variation. I want the cocktail to be more drinkable, less shocking, than the Rob Roys I've had so far.
The food (we had seafood stew and the VQ burger) at Veritable Quandary was great. I especially recommend the
bacon-wrapped Chevré dates
, $5, as an appetizer. Elliot tried the refreshing
Twelve-Twenty
specialty cocktail, made of Maker's Mark bourbon, Dubonnet, Cointreau, and soda. Service was fast from our frisky black-dress-shirt-clad young waiter, and the older Hispanic gentleman that kept refilling my water glass at uncannily perfect intervals was dressed in a clean white chef top and really added to the experience.
The only drawback to the evening was the intermittent braying laughter from the extremely loud-mouthed blondes behaving like business-sector groupies at the bar. Nothing says "please be my sugar daddy" like a dress that's two sizes too small, a fat ass, and a fake tan under 8 layers of makeup.
Thursday night Elliot took me out for post-work cocktails and food. I'd just come out of a really dull economics guest lecture about far-flung European territories and the effect geography may or may not have on their growth. The presentation had degenerated into a debate between the guest lecturer and two econ math geeks in the audience who wanted to critique and analyze the complicated formulas used in the study.
Current Mood:

amused

Current Music:

Rilo Kiley - "Love and War"


Video rentals and sales are down by 50 percent, contributing to a 1/3 revenue loss in the $13 billion-a-year industry.

Actresses' fees have fallen to $1,000 per scene, down from an average of $3,000.

Civilian participation in general is up, saturating the job market with pretty faces competing for basic entry-level stripper positions. With no shortage of "show me your tits!" labor, women who are serious about being a sex celebrity can no long follow a traditional path to a decent paycheck.

According to an article in Rolling Stone, girls who aspire to make it big in the sex industry are now looking at a different market with a different top job description: that of the high-profile, exclusive, high-hourly-rate escort. The goal here is to make some kind of name for oneself, via internet, print (or in some cases, Reality TV), and then hire out as a companion.

In some instances, Playmates are flown to Middle East countries to hobnob with business highrollers for amounts like $25,000. Whether copulation is actually involved is at the discretion of the girls.
[info source: Grigoriadis for R.S.]

So what's to become of the old industry? What's to become of the dimly-lit neighborhood porn shops? Where will I go to get a "Big & Hefty" calendar or my next Barely Legal fix? I don't want to watch porn on my home computer. It smacks of adolescent despair and seems like an afterthought. Hell, I might see someone I know! Certainly the industry is going to have to innovate. Jenna Jameson, famous for roles in big-budget porn epics like the pirate-themed Conquest, and once on her way to becoming a household name and positioning herself to enter the mainstream Hollywood market as an actress, is now as famous for dating UFC celebrity Tito Ortiz as she is for any recent professional work.

Okay, I don't really frequent porn shops or watch pornography anymore. But I used to, and I can't imagine 82nd Avenue without Taboo video. I'll miss the glossy catalogs and the familiar names - Mandingo, Asia, Jaime Steele...

In a shifting market, it'll be interesting to watch how the sex industry continues to reinvent itself to survive.

Here's a toast to the hardworking capitalist girls who keep the dream of commodity T & A alive.
With lots of everyday girls willing to get on Youtube or various other internet websites for chump change, the classic porn industry is dying out and the profession of "Porn Star" is becoming obsolete.
Current Mood:

contemplative

Current Music:

Gym Class Heroes - "Clothes Off"
"Thou Shalt Not Waste Beer" [photo courtesy me]


Summer 2005. A birthday party in Eugene. Party Foul results in innovative salvage tactics by one guest. The desperate, dark determination to both entertain and imbibe is visually embodied here...Amazingly, this was a second floor-lick. He re-staged the impulsive heroism - at my behest - so I could snag the immortal money shot.
Current Mood:

nostalgic

Current Music:

Alkaline Trio - "Crawl"
Eight Belles
who died at the end of this year's Kentucky Derby after running hard to place second against a hefty colt named Big Brown...But this is not that cocktail. That story was simply brought to mind because a Derby-related classic cocktail
did
inspire the new one I mixed up last night.
This is a variation on a
Mint Julep
, one of my favorite bourbon cocktails. The sake take is more drinkable, decidedly delicate, with an understated sharpness. Incredibly refreshing, it's an elegant addition to your summer drink roster.
I used
Kurosawa Junmai-Ginjo
sake for this version, but you might also want to try
Watatake Onikoroshi
(very clean) or
Yuki no Bosha
(sweeter).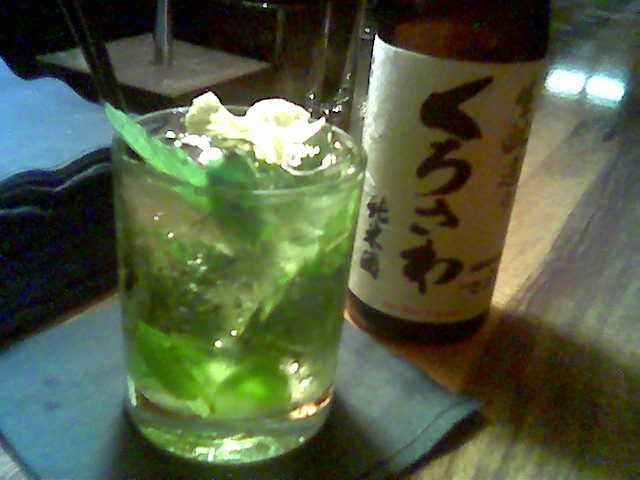 [photo courtesy e.scott]
The Beautiful Enemy Saké Julep

2.5 oz Kurosawa Junmai Ginjo
9-13 mint leaves
3/4 oz simple syrup
>muddle mint and a few ice cubes in bottom of neat glass
>fill glass to capacity with ice cubes
>pour sake over ice
>top with simple syrup
>add two straws and give a slight stir
>garnish with the prettiest two mint leaves you can find
>float an edible flower (I used a pale yellow pansy in this pic)
The great thing about using a small bottle of a superior sake such as the Kurosawa is that as you drink your julep down, you can add sake to keep your drink full. Sure, this changes the proportions of sugar to liquid as you go, but I found that experience to be quite intriguing. The first sips were disarmingly sweet, the next refill resulted in an amplified riceyness and more of a savory experience as the mint disintegrated, and the last bit I just drank straight from the bottle, which made me feel like a samurai about to go into battle.
Cheers. Er, kanpai...Bonzai...whatever. Enjoy.
One of my pet projects is to create a cocktail in honor of the filly
Current Mood:

sleepy

Current Music:

She Wants Revenge - "All Those Moments"

Company: MASU East in Portland, OR
Sex: Female
Birthday: January 7
Signs: Capricorn / Sheep
Drink: dry Monopolowa martini, xxx shaken, lemon twist
Liquor: Laphroaig 15 Yr scotch
Beer: Ninkasi Believer Double Red or...Hamm's (the beer refreshing) tall boy
Sanctuaries:
PDX - Teardrop (http://www.teardroplounge.com/teardrop.html) be seduced by David, Daniel & The Last Word
Eugene - Bel Ami (Midtown Marketplace at 1591 Willamette Street) ask for Jeff Morgenthaler, get a Boodles gin martini

I'm a Queen of Thieves and a mongrel. Born and raised in SE Portland (hence the aforementioned love of Hamm's) of Chinese, Jap, Flip, Brit, and Dutch descent with Hawaii roots, I often use the term "Yellow Aristocratic Trash" to describe my background and upbringing. That is, if you took a mash of aged fallen Old Money blue-blood and Christian-infused country rural flavor, distilled it with South Pacific pirate hybrid vigor, then finished by blending in a touch of top-flight geisha grace and Southern charm, you'd pretty much get me crapped out the other end of the pot still. I'm trying too hard to make a cool metaphor; but you get the idea.

I'm currently in the process of moving into a new house in southeast Portland with the love of my life, Elliot. I have a 10-yr-old Wolf/German Shepherd named Medgar (Craigslist rescue, named for a civil rights activist, apparently) and a tiny, bratty calico cat named Good Fortune ("bitch" for short). I also have a stray rabbit that almost got run over on Holgate Blvd last Friday night, in case any of y'all wanna adopt a bunny (please).

Though I already have a degree in English from U of O, I'm currently studying Accounting at Portland State University. By summer '09 I'll have completed a post-baccalaureate certificate in that discipline that will allow me to get a decent-paying job and start raising capital to eventually start my own business (clothing co. or bar, or both). So this bartending gig will likely last only about a year...

That's 365 days of booze-driven verbal diarrhea for y'all to enjoy. Enjoy.


Occupation: Bartender
Current Mood:

amused

Current Music:

Take Lots With Alcohol - Alkaline Trio